Planning Ahead in Case of a Burst Pipe | SERVPRO® of Cambridge/Belmont
12/14/2020 (Permalink)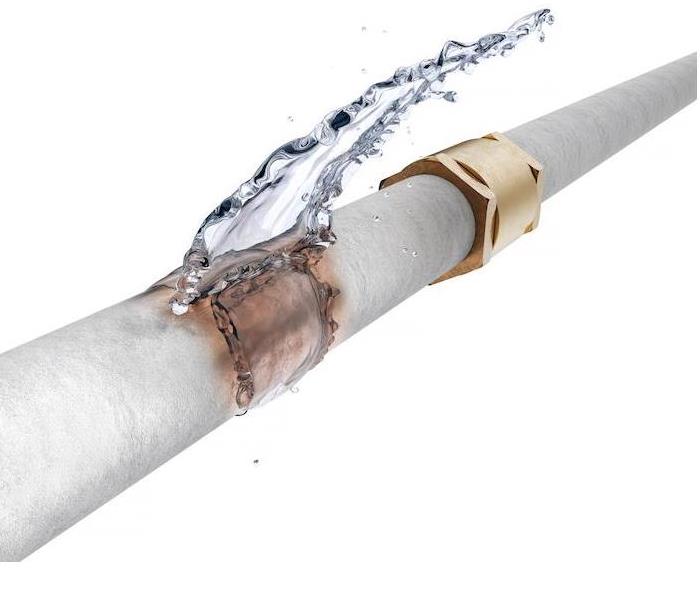 If you have water damage in your home due to a burst pipe or another cause, contact us right away. SERVPRO of Cambridge/Belmont is available 24/7.
Burst pipes are something that can happen when you least expect it, causing serious damage in a brief amount of time. While there is no way to know when a pipe may burst, knowing what to do in the event that one does can help you act quickly to mitigate the damage that the water can cause.
In a perfect world, water damage would be a rare occurrence—but many people are surprised to find out how often it occurs. Every year, one in 50 homes will experience some type of water damage, but a plan can significantly lessen the impact that it has.
Having a Plan in the Event a Pipe Bursts in Your Home

Shut off your water main. When a pipe bursts in your home, in some situations, it can continue pouring water into the area, creating even more damage. If it is safe to do so, shutting off your water main can reduce the overall damages that are caused.

Shut off your electricity. Water and electricity definitely do not mix, so if you are able to get to your circuit breaker to cut your electricity off safely, it is wise to do so. This will ensure that if water comes in contact with outlets or appliances, there is not a shock or fire hazard.

Contact your restoration company. Setting your restoration in motion quickly is one of the best things you can do for water damage, so it is wise to get in touch with your restoration company right away. We recommend always choosing a company that is available 24⁄7 so you never have to wait for a call back when you report your damages.

Take a record of the damages. Not only is keeping good records helpful for you, but it will also be helpful if you are eligible to file a claim with your insurance provider. Take photos and videos in addition to making a list of everything that is damaged by the water.

Contact your insurance company. The type of coverage you will receive for water damage of this nature can vary, so your insurance company is the authority on what is and is not eligible to be covered by filing a claim. Contacting them quickly can help you set this process in motion so you can get it settled as fast as possible.

Open windows and doors if possible. If the weather permits and it is safe to do so, increasing the airflow around water damage by opening windows and doors can speed up the drying time by encouraging evaporation.

If you have water damage in your home due to a burst pipe or another cause, you can count on us for restoration assistance. Contact us at any time to learn more about our restoration services.