A Guide to Flash Floods After Severe Weather Occurs | SERVPRO® of Cambridge/Belmont
11/23/2020 (Permalink)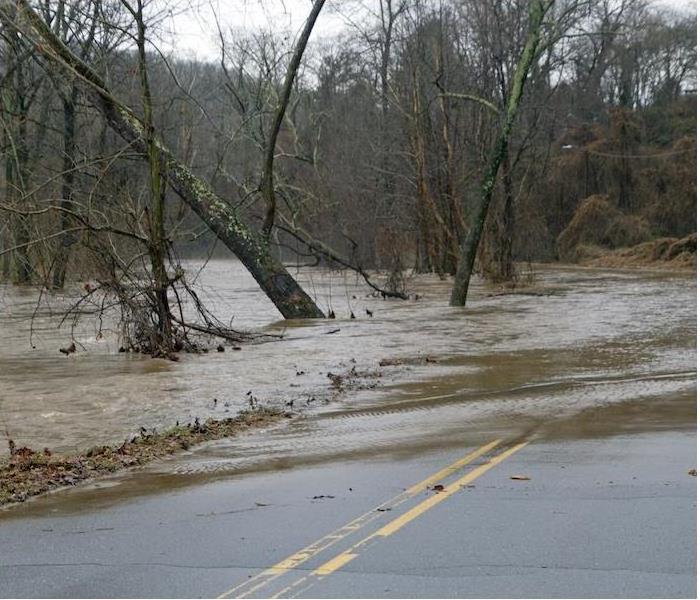 SERVPRO of Cambridge/Belmont is your local water & storm restoration expert. We will get the job done right, contact us today.
While many weather events get a bad reputation as being dangerous or deadly, many people do not consider flooding to be included in this list. Many people are surprised to find that flooding is second only to heat deaths in total weather-related fatalities in the United States, and flash floods are especially dangerous.
One of the reasons why flash floods can be so deadly is because they come about suddenly, and even areas not prone to flooding can be impacted. Even a small drainage pond or blocked sewer system can lead to a dangerous flash flood if enough rain falls, which is why knowing the facts about safety is key.
How Are Flash Floods Defined?
While regular floods occur slowly, flash floods start within six hours of extreme rain after a storm or other severe weather, and often occur in as little as three hours. Additionally, they are rarely found in known floodplains and instead are frequently occurring in urban areas and other parts of towns that are not used to floods occurring traditionally.
What Are the Levels of Warning Present for Flash Flooding?
Because flash floods happen so quickly, it is important to tune into your local weather broadcast during storms and severe weather so you can always be alerted to their possibility. If there is a flash flood watch issued, that means that it is a possibility that a flash flood might occur and you should be sure you are ready to evacuate. For a flash flood warning, flooding is more imminent and everyone should move to higher ground. If an emergency is issued, that means to move immediately as there are life-threatening flood issues taking place.
How Can I Increase My Safety During a Flash Flood?
Being safe is so important during any storm or severe weather event, especially when flash floods become a possibility. These are some of the best rules to keep in mind to make sure you and your family are always as safe as possible:
When storms involve heavy rain, stay inside and away from low-lying parts of properties.
Always have an evacuation plan for floods and be sure your family is aware of it.
Avoid trying to cross floodwater, whether in a vehicle or on foot.
Avoid touching floodwater or allowing children to play near it, as it can be heavily contaminated.
Always turn around if there is water on your intended route of travel.
If your home or business has been damaged due to a flood or other severe weather, you can depend on us. Contact us at any hour to learn more about our services or to report damage to your property.